Services - Partnership Incorporation @$200, inclusive of 4 months free Virtual Office!
We also provide:
If you have more than one party who is involved in the business, you would require to forma partnership. it is no more complicated than Sole Propietor other than the fact that you would need to draw up a private partnership agreement between the partners ( We will give you a template for free once you signed up ). As with the government, you are going to have to register that no different from a sole proprietor. It is fast and easy and very economical. You can register yourself at ACRA or use our service to help to register a company. You can get more information about registering your own company here.
It includes:
1 X Name search by Acra
Business Name Application and Registration
Maximum number of partners should not exceed 20
All this for $200 one time, all inclusive of ACRA fees
If you would like to register your company using our registered address, only $99.00 / year,
Click here for more info
Alternatively, you can choose to register the company by yourself , while we provide virtual office services at $99/year. You are more than welcome to register the address first with ACRA, before registering with us while you use our address as your registered place of business.
Prestigious Office Location
60 Years Guarantee
FREE Shared Fax Number and Forwarding
DAILY Mail Alert via Email
FREE Weekly Mail Forwarding*
FREE Web Hosting
FREE Namecard Design
FREE Web Consultation
Quarterly networking session
ZERO setup fees
$99/year for the use of our address as your virtual office.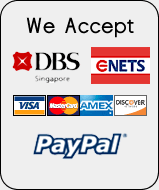 Our Guarantee:

If after you purchase our service within 7 days and you feel for any reason that it fails to live up to our promises, or even if it does and you change your mind, simply write in to us, and we will immediately give you a 100% refund of the purchase price,
NO QUESTIONS ASKED.