VOIP
What is VOIP?
VOIP stands for Voice Over Internet Protocol. In a simple word, it means to be able to make phone call over using the public Internet to any regular telephone. Regular networks are also commonly knowns as PSTN ( Public Service Telephone Network ).
Where can you use VOIP?
As long as you have an internet connection, with the right software and perhaps hardware, you can use VOIP immediately. You do not need to be in Singapore in order to have a Singapore number. It means that should you have an internet connection
Why would I want such a service?
We have been doing busines on the Internet from 2000. Since our humble beginning, we found that if you are able to talk your customers , very likely it would mean that you can close the deal. Imagine if you are India, but the bulk of your clients are from Singapore. Would it not make sense to set up office here in Singapore?
No, if you can allow them to contact you via phone by allowing them to call you through a Singapore number without incurring huge IDD bills, do you think you are better able capture this market share? Absolutely. How do you think we were in Singapore and we got so many MNC contracts for our web development company when we started back in 2000!
What are the minimum requirements for VOIP?
56kbps minimum with no loading
Recommended 512kbps down and 256kbps up
What do we offer?
We are currently offering the service to allow anyone who has an internet to be able to get a Singapore number. The minimum cost of the services start at only $19.90. We have invested more than $200,000 into the setup using only the best equipments from CISCO and work with singapore's leading provider Singtel.
Click Here to contact our VOIP division to ask for more details.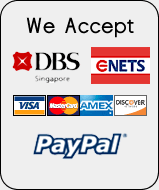 Our Guarantee:

If after you purchase our service within 7 days and you feel for any reason that it fails to live up to our promises, or even if it does and you change your mind, simply write in to us, and we will immediately give you a 100% refund of the purchase price,
NO QUESTIONS ASKED.